Hello Friends,
I am so excited to write this blog post about the amazing country of Japan! The cherry blossoms, people, mannerisms, food(especially the desserts) and the cleanliness of this country is something that I have never experienced while traveling. Dan and I love to travel; but the trip to Japan is a trip that we will always cherish in our hearts.
We travelled to Japan during cherry blossom season which is from the end of March until mid-April. This time of the year, Tokyo is extremely busy with tourism; and the reason for this are the cherry blossoms and the Spring season. Everyone told me that I would love Tokyo and Kyoto and they were right!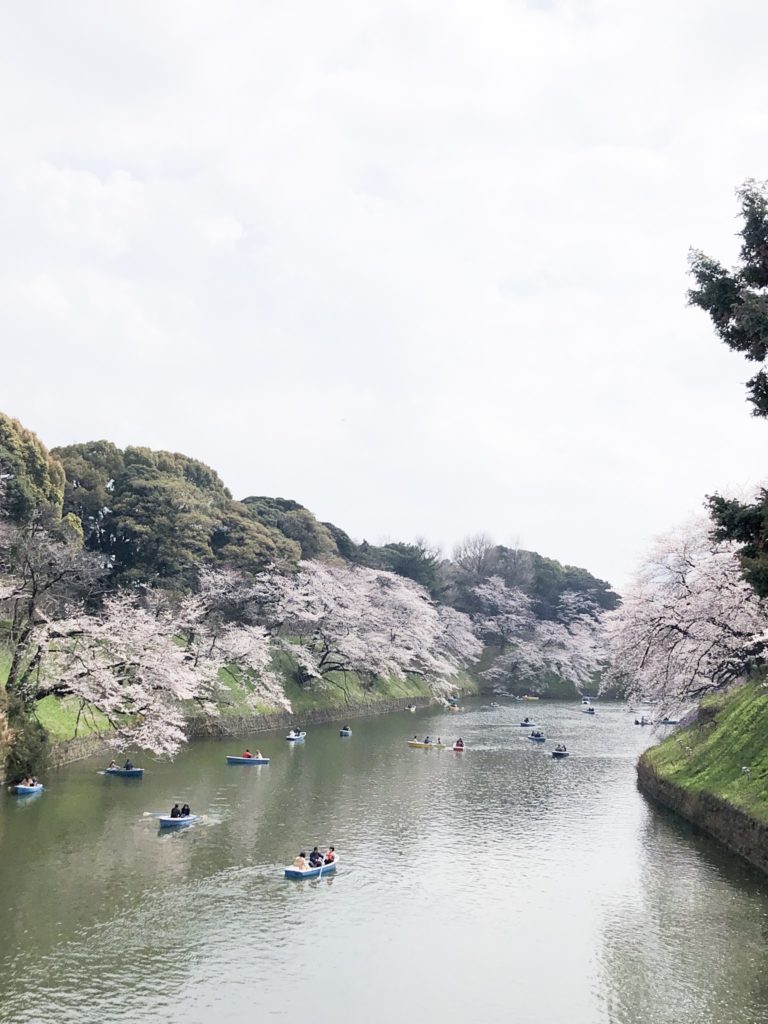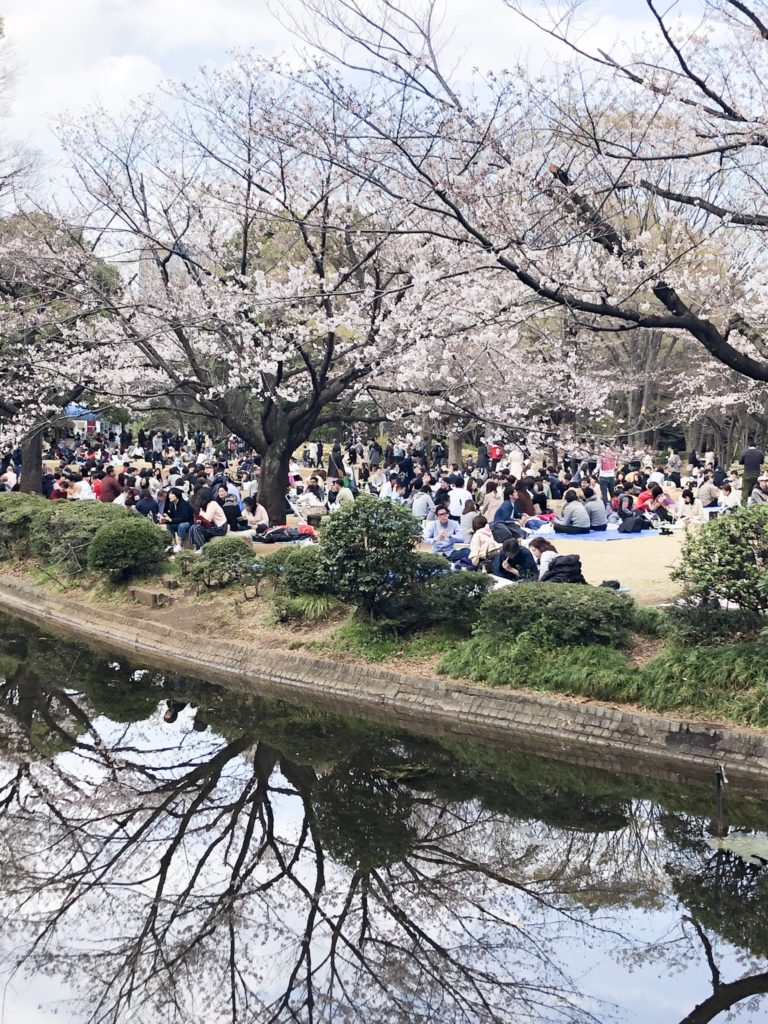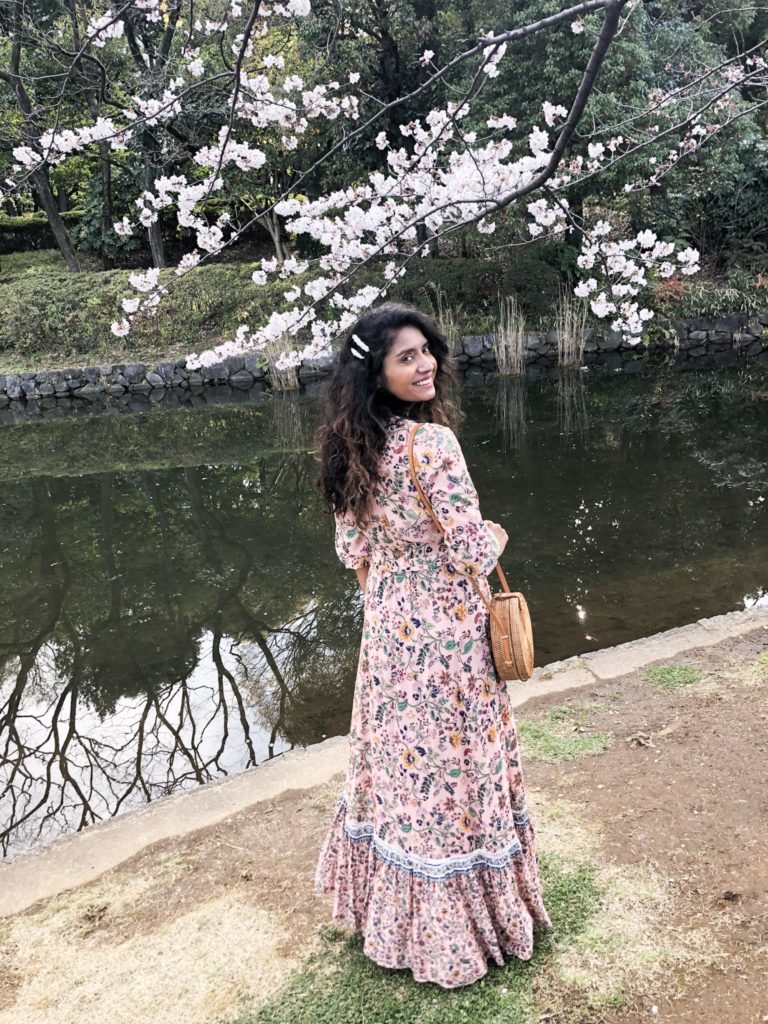 Tokyo is a great city to stay and experience the beautiful cherry blossoms. It was our first time seeing the sakura trees in their most glorious state, which was breathtaking beyond belief. I had the biggest smile on my face. I highly recommend visiting Chidorigafuchi Park, Kitanomatu Garden and the Imperial Palace for the surreal scenery that you will encounter. You will see people on boats, beautiful paths with trees full of cherry blossoms and friends laughing and eating while they are having a picnic. The moment becomes even more spectacular when you see the temples. The construction of these temples is so remarkable. Dan and I have never seen anything like this in our lives.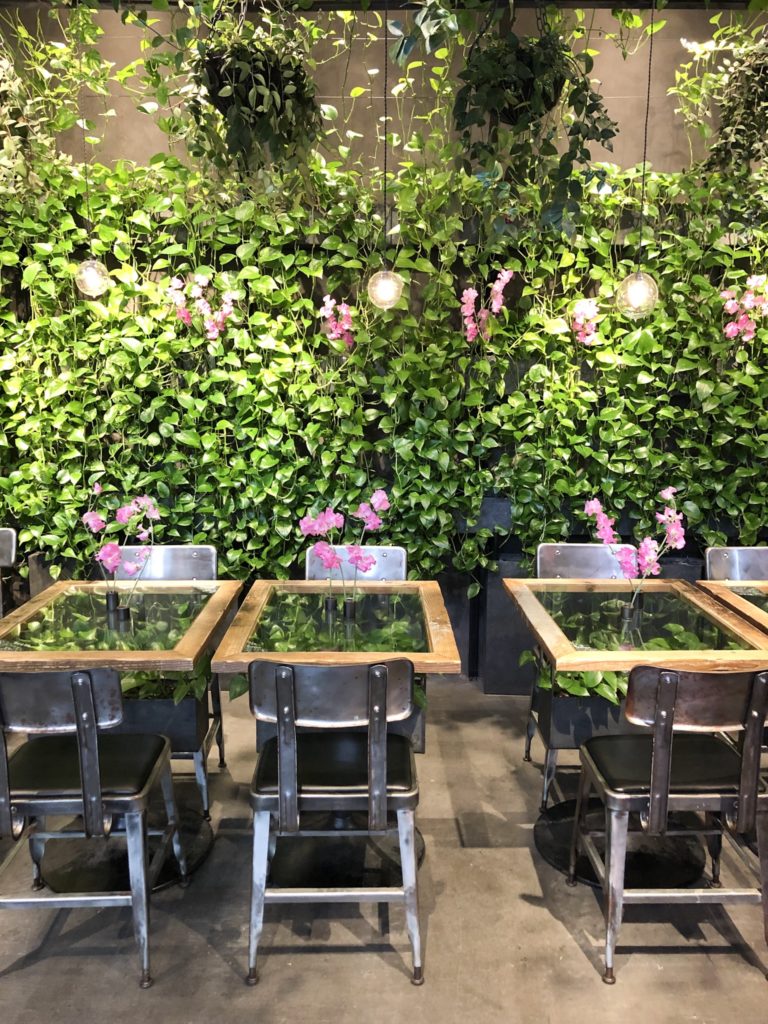 Tokyo has incredible restaurants and sushi. One of my favorite spots to eat sushi was in Shibuya. Genki Sushi was a cute restaurant where your sushi comes to you on a tray. The entire experience was so fun. Another spot that I really loved going to was Aoyama Flower Market Tea House. The inside of this restaurant has green plants with pink flowers everywhere. It's such a cute place to eat.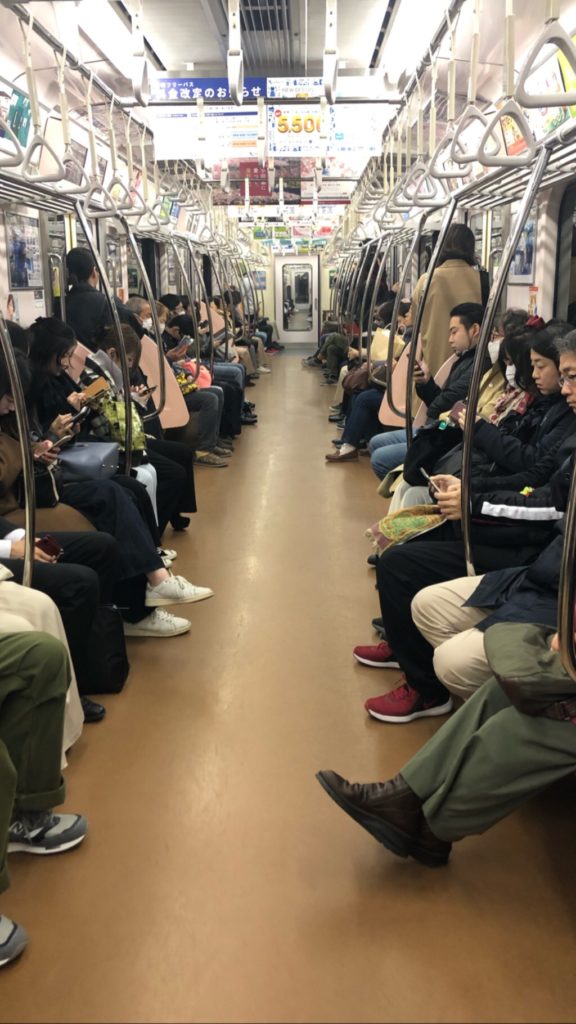 While we were in Tokyo, Dan and I stayed near a subway station. As it turns out, the subway was the best way to get around Tokyo. Since Tokyo is such a big city it would be wise to pack comfortable shoes because you will walk a lot.
If you are planning a trip to Japan, here are some tips that I think will help to make your trip more enjoyable.
1. Download google translate-it will help you to communicate with the Japanese people. People in Tokyo are really nice and helpful.
2. Google Maps-Our google map helped us so much when it came to taking the subway. This will help guide you on what train you need to take so that you can get to your destination.
3. Trains are ALWAYS on time. This was amazing. The trains come every 10 min. Everyone on the trains is so quiet that you feel like you are in a library.
4. There are no trash bins in sight. If you eat or drink on the go, be prepared to carry your own trash. We put a plastic bag in our backpack so that we could put our trash in the plastic bag and carry our trash until we got back to our hotel.
5. Japan is very safe! I accidentally left my purse on the seat in the park. A very nice lady ran toward me and brought me my purse.
6. Use of convenience stores is a must. 7-Eleven and Family Market are two convenience stores that Dan and I used. They both have ATMs and you can pick up food and water to take back to your hotel.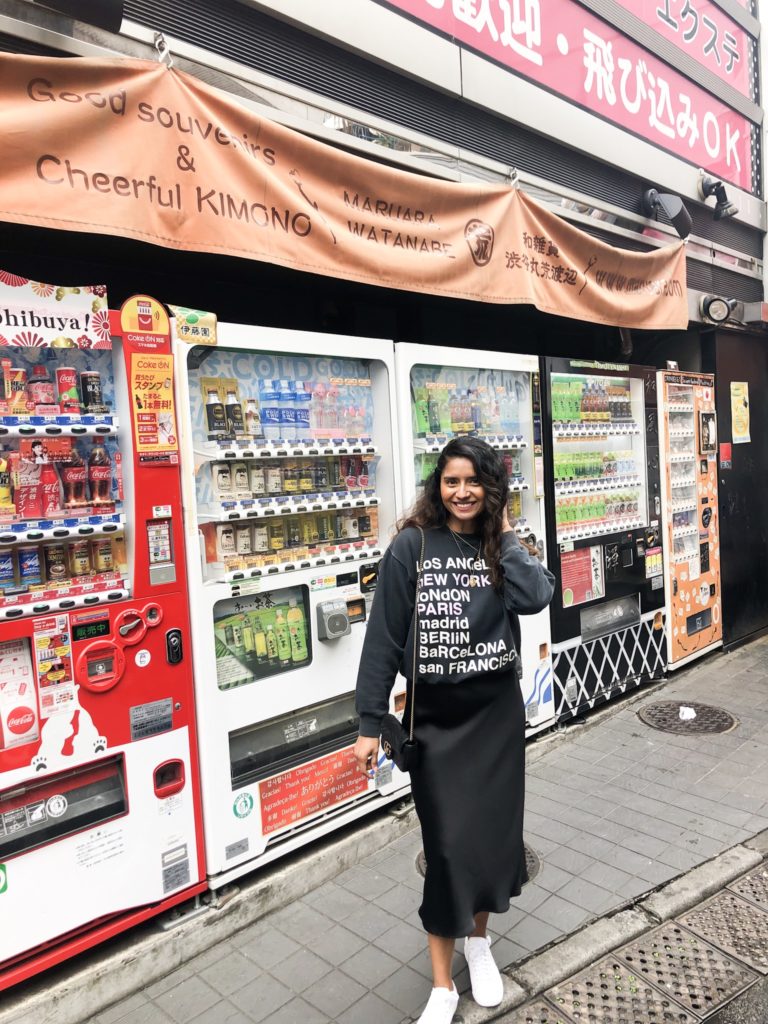 I also suggest going to the famous crossing street in Shibuya. It's insane how many people cross the street at the same time. Dan was trying to get a photo of me there; but it didn't come out that great. We probably crossed Shibuya at least 10 times. It was fun doing it.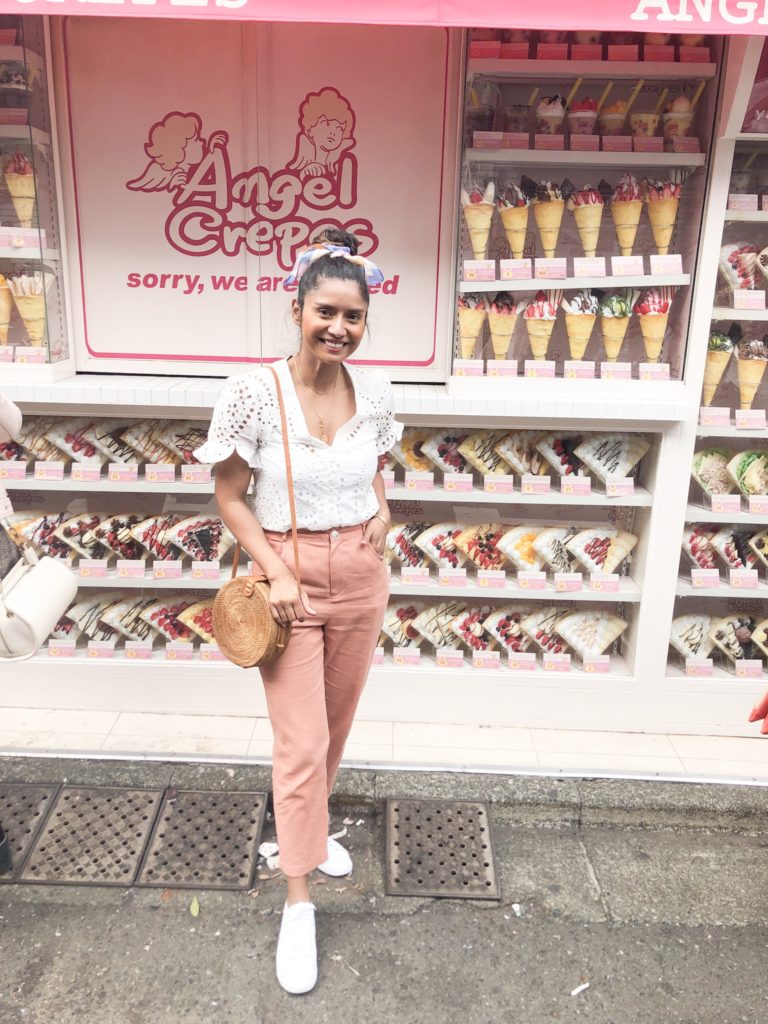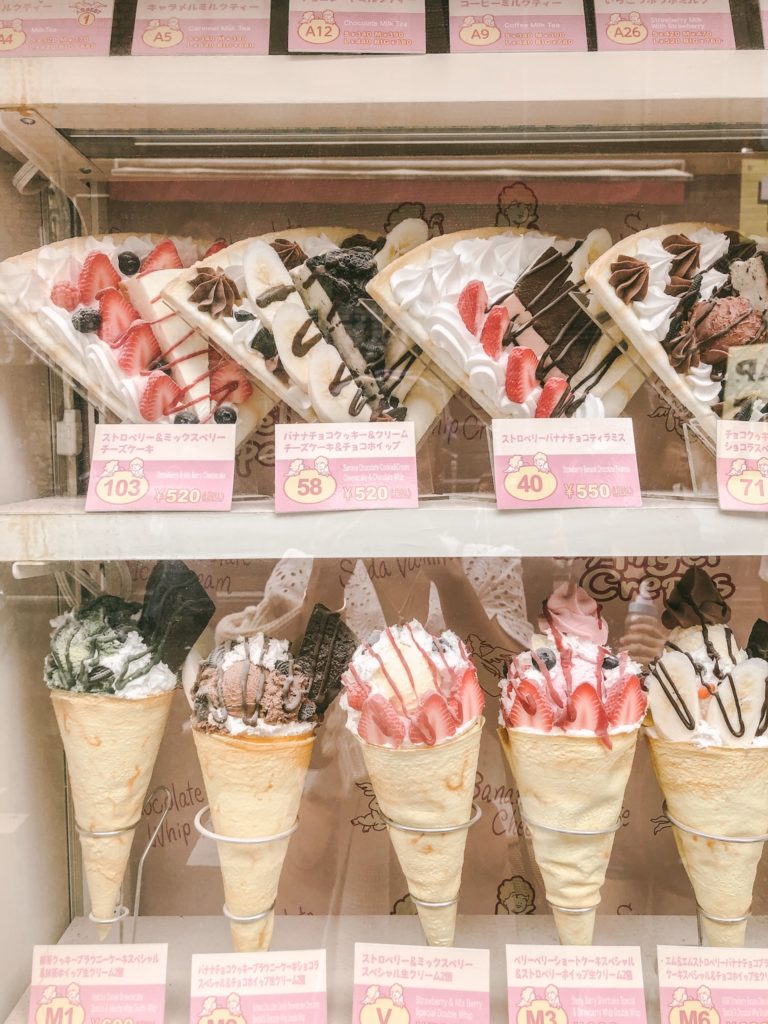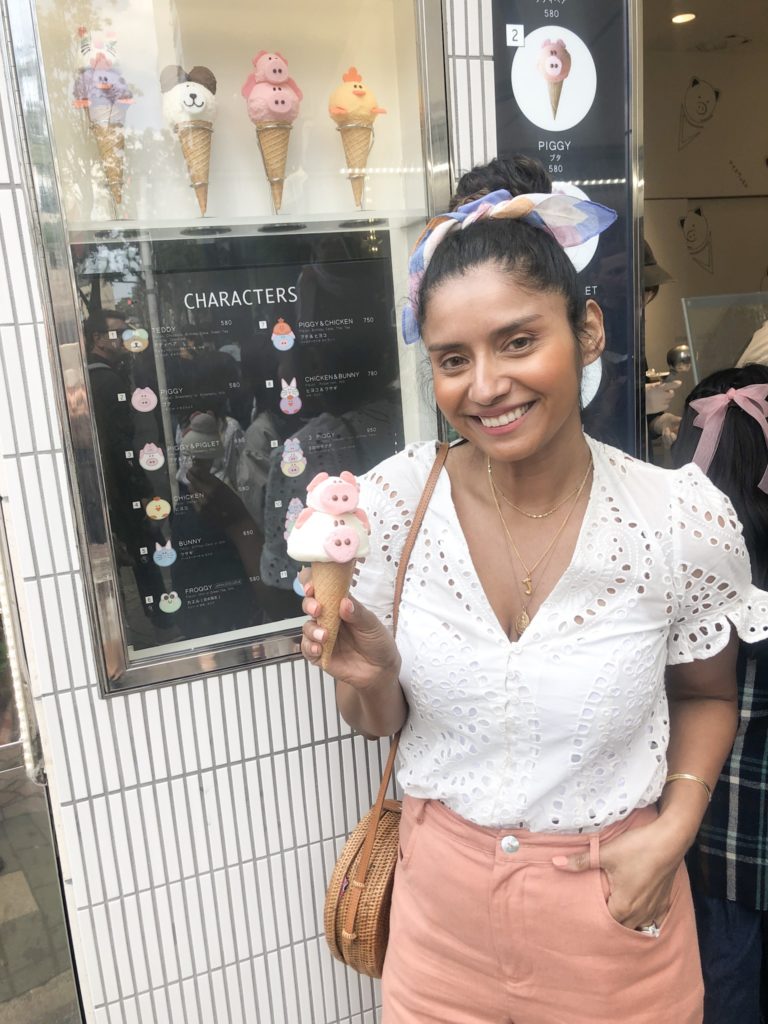 The desserts in Tokyo are incredible! Dan and I travelled to Harajuku, which is 10 minutes away from Shibuya to sample the Santa Monica Crepes. The line was insanely long so we decided to go somewhere else. We found the cutest ice cream stand that was close to the crepe place. It had the cutest characters that you can pick and I chose Miss Piggy. The ice cream was so good. Harajuku is not only a famous street to go to but I think it is famous for its variety of desserts as well.
Five days in Tokyo was the perfect amount of days to stay there. I hope you all enjoyed this post. I'll be working on the Kyoto blog post next. So stay tuned…!